Solar Working – Explained
Ever wondered how solar energy is converted into electricity? Well, this will give you an idea how it works.
First, solar panels are installed over a flat surface like the roof of your home, commercial buildings or industries. Once activated, it absorbs the sun's rays since the panels are made of semi-conducting materials such as silicone.
Electrons are then knocked off loose from their atoms so it can produce electricity. This process by which light is converted into electricity is better known as the photovoltaic effect.
From there, you now have direct current electricity and when this enters an inverter, it is converted into 230 volt AC which is the electricity needed to power the home.  Of course this is connected to the utility panel in the house so the lights and the appliances will work when these are switched on.
If you are not using that much electricity from the solar energy generated, it is stored in a battery so will be able to supply the house with power during a power outage or at night. Should the battery be full, the excess electricity is then exported to the utility grid if your system happens to be connected to it. When your solar energy runs out, utility supplied electricity kicks in.
The flow of electricity of solar energy is measured using a utility meter which spins backward and forward. It will go backward when you are producing more energy than you need and forward when you need additional power from the utility company. These two are only offset when you pay for the additional energy from the utility company. Any surplus is sod back to what is known as net metering.
A smaller version of this is used to power a water heater inside the home. Using the same principles, homeowners get to convert sunlight into heat to get warm water.
As you can see, transforming sunlight into solar energy is very easy.
Demand Based Classification of Solar Systems
Every electricity consumer has a different load profile like maximum power consumption during day time or night, Fixed power cuts/outages, Holidays & weekly offs in case of commercial or industrial units etc.
Point to be relaxed here is that our solar systems can be fully customised according to your load profile and energy requirements. Design of your Solar system depends on all these factors.
Generally, Solar systems can be categorised as below;
On-Grid System – This type of systems, are connected with your building's main electricity supply from your local DISCOM. Here, your solar system can be connected to your mains electric supply solely or in combination with other power sources like battery banks.
Hybrid Solar Systems – Such Solar systems are combined with your other electricity generating equipments like generators or inverters. No doubt, you can include battery banks also as a power backup option.
Off-Grid System – Off-grid solar power systems are equipped with battery banks where excess generated surplus energy can be stored for later usage during night hours and does not need to be connected to your main electric supply from DISCOM. Such type of systems, are widely used for Traffic signals, Street lights, water pumps for irrigation and backup power for houses etc in localities where grid connectivity is not available.
If you have grid connectivity, conventionally, On-Grid solar systems are highly recommended due to its minimal maintenance requirements and maximum returns. These fulfil your energy requirements more economically and provide flexibility of using a grid-hybrid system also where you can store electricity in batteries for night time loads. For schools or offices, you can opt for Net-Metering mechanism where extra generated electricity will be supplied to DISCOM during holidays or weekends. For more detailed analysis of cost, savings, finance and buying options, please
Get In Touch!
If you are a consumer of electricity and owner of a roof, the answer to the question is – Yes.
Using the power of the sun is becoming increasingly attractive from an economic and environmental aspect. It is the unlimited source of energy spreading equally amongst the world.
Variety of consumers like owners of residential buildings, commercial or industrial entrepreneurs or public utility service providers, can use solar in many ways and add to their savings for lifetime every year.
However, certain things you must consider for solar installation on your roof are as below;
Available Space on roof – Amount of space required for solar installation depends on size of the system, efficiency, specifications and type of solar panels being used and location of installation i.e. Space required for solar installation in northern India will be slightly more compared to locations in southern India. Typically, for 1 kW solar rooftop system, it requires approx 10 Sq. meters (110 square feet) area. Based on the space availability, you can fulfil your electricity requirement through solar. Based on availability of excess space on your roof, you can increase your system size anytime if your energy needs increases in future.
Type of Roof – Solar systems can be installed on almost any type of roof i.e. flat roof, sloping roofs, RCC roofs, metal sheds etc. Irrespective of the material used for construction of your roof like RCC, Cement sheets or tiles, fibre or metallic sheets and wood etc, solar installation is possible for all types. Most Indian roofs are flat and are ideal for deploying solar power systems but if your roof is sloped, roof orientation and tilt angle of solar panels must be checked.
Strength of Roof – Most roof types in our country are suitable for solar installation. However, in case your building is too old, this is recommended to get the stability verification of your roof. Generally, a Solar PV system weighs about 15 to 20 Kg per square meter. This weight can be easily borne by most roofs. Just ensure that your roof quality is good enough to support the solar power system for next 25 years minimum.
Roof Orientation – This is vital point to check the orientation in case you have a sloped roof. Typically, south facing orientation in sloping roofs is considered as best suitable for solar installation. Slop angle also, has a major impact on the performance of your solar system.
Shadow of Objects on Your Roof – This is self explanatory that sunlight is the fuel for any type of solar power system and any object causing shadow on solar panels (however, even if shadow may be for a small interval) will obviously reduce the power generation and hence efficiency of your solar system.
Hence, it is important to assess your roof thoroughly to get maximum efficiency from your solar power system for a life of 25 years or more.
Inframitra performs in depth assessment of your roof by its professional experts using advanced tools.
To get your roof assessed, Contact Us NOW!
What Inframitra will do for you?
Inframitra is a single solution to all Infrastructure requirements starting from concept designing till commissioning and maintenance. Inframitra is driven by abundantly experienced leadership having diversified industrial experience. We are committed to provide Best in class quality at lowest optimized cost within guaranteed minimum time.
We have expertise in customized Solutions for Rooftop Solar Projects for domestic & commercial Buildings, Utility Scale Ground mount, Carports & Industrial Sheds and Hybrid Solar Projects, Energy Storage & Battery Integration Infrastructure Development and related Construction Works.
Inframitra turns your Solar dreams to reality and harvests the finest financial and environmental benefits of solar energy to you.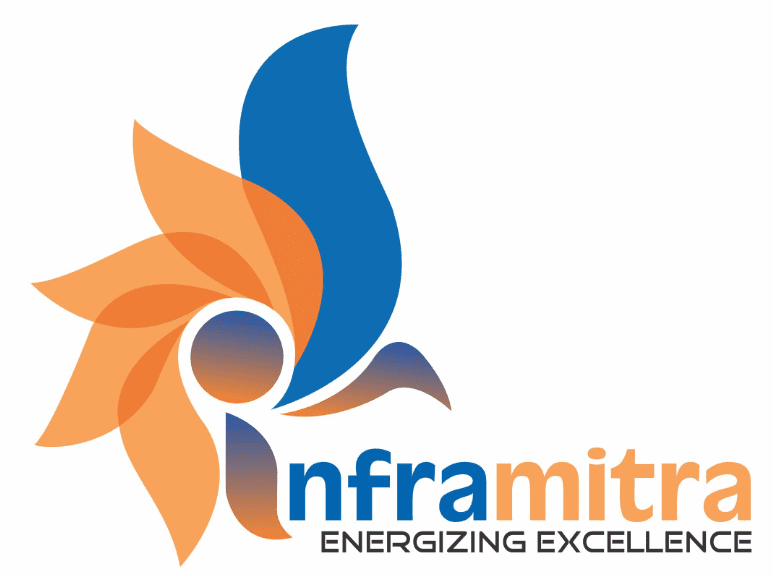 Our Standard Operating Procedure includes:
Evaluating your roof in terms of Accessibility, stability, viability for solar installation by developing site specific layout, shadow analysis, generation and savings potential calculations using our special engineering tools.
Assisting you in decision making process for selecting type, size, value, ROI (Return on Investment) along with buying & financing options for your solar power system.
Extending help of our experts in evaluating quotations, finalizing Guarantee & Warranty terms, other commercial terms, insurance and related statutory approvals.
Providing an awesome solar buying experience by simplifying the process, ensuring economical prices ensuring highest quality and safety standards backed with lifetime support by your "Solar Mitra".